Board of directors and Key Personnels
Mr. Ajay Agrawal - Managing Director of the Group having and experience of over 44 Years
Mrs. Usha Agrawal – Director of the Group, been a pillar of strength and support through the years
Mr. A.K. Jain - Retd. Police Officer having an experience of over 35 Years
Mr. Ayush Agrawal - Director of the Group, having an experience of over 5 years
---
History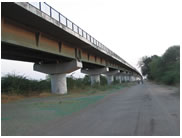 Late Shri Gopinathji Agrawal, Grand Father of Mr. Ajay Agrawal, MD of Ayushajay Group started the construction and tolling business in the family. In 1930's he engaged in construction of roads and bridges. He used to operate the Toll Tax Barriers for Khalgat Bridge in Dhar District, MP and Mortakka Bridge on Narmada River. He operated these Toll for over 25 years. But in 1961, the Indian Government shut the tolls all over the country hence we had to stop our Tolling Operations. Due to the sad demise of Mr. Gopinathji Agrawal in 1956, Mr. Motilalji Agrawal had to leave his academics and join the family business. Mr. Motilalji had to join the business at a very young age. Being second eldest in his generation, he had a lot of responsibilities on his shoulders.
He setup the firms M/s Jaigovind Gopinath, M/s Preconco, M/s Nimaar Construction etc. in which he continued the construction works in the road sector and completed various projects in and around Madhya Pradesh. He also exceled in the bridge sector. He completed a number of crucial and challenging projects in those days. One such bridge is the Sardar Patel ROB bridge in Indore, M.P. (1975). This bridge is still one of the most important and prestigious fly overs in Indore.
In 1972, Mr. Ajay Agrawal, Managing Director of Ayushajay Constructions joined the business. He assisted Late Mr. Motilalji Agrawal in the construction of Patel Bridge. Under his guidance, Mr. Ajay Agrawal made several bridges and gained valuable experience. In 1981, Mr. Ajay Agrawal embarked on his own and setup M/S Ajay Constructions started taking up his own projects of construction of Pipe Culverts, Roads and minor Bridges. Since then the group has been carrying out various businesses successfully across 10 states in the Nation in the fields of Toll Operations on PPP mode with various national and State level Government and Private Bodies, BOT and OMT Construction Contracts, Institutional Financing and Investments in various financial Avenues, Real Estate and Automobile Sectors.